MIO Scientists onboard the French Navy Ship « BHO Beautemps Beaupré » for the PROTEVS-BIOSWOT cruise

In the framework of the BioSWOT project from CNES (PI F.d'Ovidio, LOCEAN), the MIO (Mediterranean Institute of Oceanography) has developed a collaboration with SHOM (Service Hydrographique et Océanographique de la Marine). A.Doglioli et G.Grégori have been onboard the BHO Beautemps Beaupré for the PROTEVS*-SWOT** cruise (PI F.Dumas) in the Occidental Mediterranean Sea, South of the Baleares Islands from April 28th to May 16th.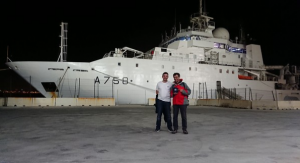 In close interaction with a team on land (A.Petrenko, S.Barrillon, L.Rousselet, M.Thyssen) and in contact with colleagues from the IMEDEA and SOCIB (PI A.Pascuale et J.Allen) onboard the r.v. « Garcia del Cid » , the researchers from MIO are interested in the role played by the currents on the structure and dynamics of the phytoplankton.
These microorganisms play a major role as they are at the basis of the trophic network, are involved in the cycle of the biogenic elements, and fuel the Ocean in dissolved O2 thanks to the process of primary production. An automated flow cytometer Cytosense (Cytobuoy) has been implemented onboard to study the phytoplanktonic cells at the single cell level and at high frequency (every half an hour). The cytometer has been implemented on the water supply from the TSG of the ship.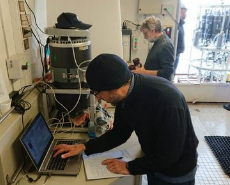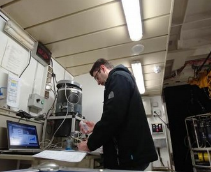 The Cytosense flow cytometer measures light scatter and fluorescence properties of the particles in suspension in the sea water. Based on these properties, similar cells form flow cytometry groups. The flow cytometry data are used to detect, count, follow the dynamics and distribution of the cells along the ship track. Some pictures can also be taken to identify the cells. The data collected during the cruise already give a glimpse of the biodiversity of the sea surface currents at the surface of the Ocean.
During the cruise, more than 15 million cells have been analyzed. The physical and biological data collected so far will provide valuable results that will be used for the exploitation of the future satellite SWOT.
* PROTEVS : Prévision Océanique, Turbidité, Ecoulement, Vagues et Sédimentologie
** SWOT : Surface Water and Ocean Topography
See also: Article in the MIO-Hebdo letter